The Beverly Historical Society offers educational programs for students from grades 3 to 12.
We are a primary source document repository and research library facility for the Essex County History Program - Essex Lincs www.essexlincs.org.
We are happy to work with individual teachers to add unique elements to classroom presentations. Please contact us via , or call 978-922-1186 to book your program or to discuss customizing our offerings to meet your needs and objectives. So read on!
Historic Site Experiences
Digging up the past – An Introduction to Archeology
This 3rd grade program begins at the Cabot House with a discussion of early European settlement on the North Shore, focusing on the history of the 17th century Balch House and an archaeological dig done at the site in 1998. Archaeological terms and procedures are explained. Small groups of students then perform their own "digs" in "pits" provided by the museum educator. Each "pit" contains an actual historic artifact that can be examined, identified in resource material, and dated. This program includes a visit to the Balch House, which may be scheduled on a different date if desired. $90; first part of the program available in the classroom for an additional fee.
Massachusetts State Learning standards: 3.2, 3.4, 3.9, 3.11, 3.12
Concepts and Skills: # 3 Observe and describe local or regional historic artifacts
---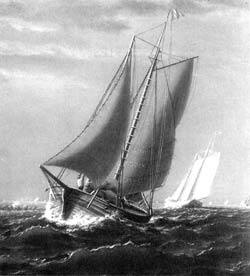 New England Maritime History: The Triangle Trade
This 5th grade program introduces students to the connected nature of maritime industry in the 18th and 19th centuries and illustrates the role Massachusetts had in the slave trade. Students will visit the Cabot House and use primary sources to learn about African Americans in Beverly, and play a game to learn about how trade in commodities brought wealth to Essex County. $50
Massachusetts State Learning standards: 5.11, 5.12
Concepts and Skills: #3 Observe and identify details in photographs and charts relating to an historical narrative
#4 and #7 Maps #12, 13, 14 Terms – profit, entrepreneur, supply and demand
---
---
Field Trips
Bus Tour of Historic Beverly
A short bus tour of many of Beverly's historic sites, including the Ferry Landing, the John Cabot House (1781), Fish Flake Hill, Independence Park, and the John Hale Farm(1694). The tour concludes at Beverly's beautiful Lynch Park, where the class can enjoy a picnic lunch. (School to provide bus transportation)
Time: 90 - 120 minutes Cost: $5 per student ($100 minimum). Tours of the Society's houses may be added for an additional fee.
Historic House Tours
Age appropriate tours are offered at our three historic houses. Group fees range from $30 - $100, and must be scheduled in advance.
Please or call (978) 922-1186 for more information or to secure a date and time. We look forward to working with you in an effort to make Beverly's history come alive!